Availability Not Showing Up
If you are setting up your Sesami services but don't see the time available in your calendar, you might have incorrectly configured your settings or there is a conflict with your current theme or theme settings.
Make sure to follow the How do I get started Sesami? article in order to create variants for your product before adding it to Sesami.
Sesami's 'Select Time' Button
When Sesami is successfully set up on your Shopify account, the "Select Time" button appears on the product page above the "Add to Cart" button.

You must have done the following before the button can appear on your product:
the product added as a service in Sesami
the variant "Duration" on your product with the appropriate value(s).
Manual Integration
If the "Select Time" time is not appearing your theme after setting up Sesami, you might need to manually integrate the Sesami code into your theme. Please refer to our guide: How do I manually install Sesami on my theme?

Time Availability Not Showing in Sesami Calendar
When you have correctly setup Sesami and have filled in your time availability for your team member when you click on the "Select Time" button, the calendar will pop up like in the following example: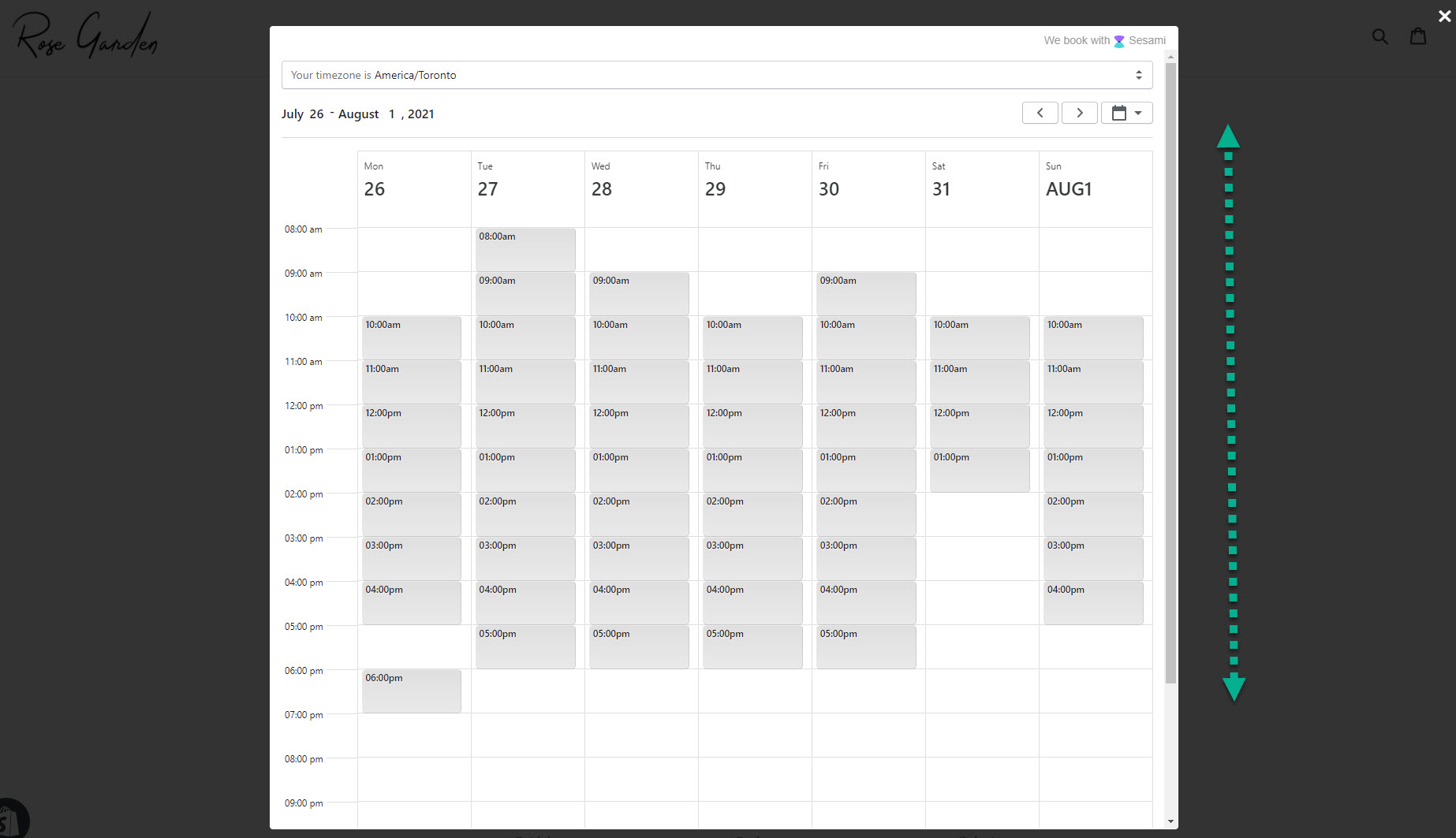 If the calendar is not populating with your availability, here are some common mistakes that we have noticed merchants make when setting up Sesami:
Not setting the variant as "Duration" - On your product page, you must set the variant to be exactly "Duration" (written in English*). Any other text to indicate the time slots that users can book just won't work. You must also set the "Duration" variant to be in the following format: 30, 45m, 90 minutes, or 3 hours.
*Duration can be translated into your language! Please contact us: help@sesami.co


2.0 theme - The Buy Button may be hidden from the Product (Theme) settings - If you don't want to display the Buy Button, you should enable the "auto-add to cart and "skip cart" in the Sesami button settings.
Sesami App still needs the Buy Buttons visible (in the theme settings) to display the availabilities. We advise this in the "Important note!" board in our setup guide: How do I set up my Sesami account?


Not setting the time availability under the team tab - Make sure there are time availabilities under Sesami > Team > [Click on Team Member] > Availability.


Ensure team members are assigned to the service - you can do this under Sesami > Services.


You have "Disable Same Day Bookings enabled" - You might be testing out Sesami to see if it's right for you and have included time availabilities, but only for today. If you have the "Disable same day booking" option checked, it won't actually show... because you have disabled it. You can find this under Sesami > Services [Click on a Service] > Same Day Bookings.


You have set the Storefront calendar start date to the wrong date - you can either leave it as blank (to start from the current date) or pick a date with the corresponding time availability in the future.
Sesami > Services [Click on a Service] > Storefront calendar start date

Hope this helps!
If you still find you can't get your time availabilities to show up on your Sesami booking app, do not hesitate to contact us! help@sesami.co