If you are using any Shopify Online Store 2.0 theme that supports the app blocks, you need to make sure Sesami blocks are activated on your theme so your customers can book appointments from the storefront:
Step 1: Enable Sesami app embed block
In the Shopify navigation menu, click on Online Store > Theme > Customize

At the bottom of the page, click on Theme settings > App embeds
This will load Sesami resources on your storefront and lets Sesami make sure appointments are still available while in the cart: Cart Verification Script
Click on Save in the top right corner



Step 2: Enable Sesami app block and customize Sesami button
In the Shopify navigation menu at the top, use the drop-down menu to select Products > Default product

Default product section > Product information > Click on + add block

Add the Sesami booking button


This is a quick view of the level of customizations you can do with our app section: You can change the button label, format, size, relocating, colors...
After you finish customizing, click on Save in the top right corner.


Note!
If you already had Sesami in your store and you are changing the theme to Shopify Online Store 2.0, after you have successfully enabled Sesami blocks, please click on "I have enabled Sesami blocks" below to let us know we can remove the old integration: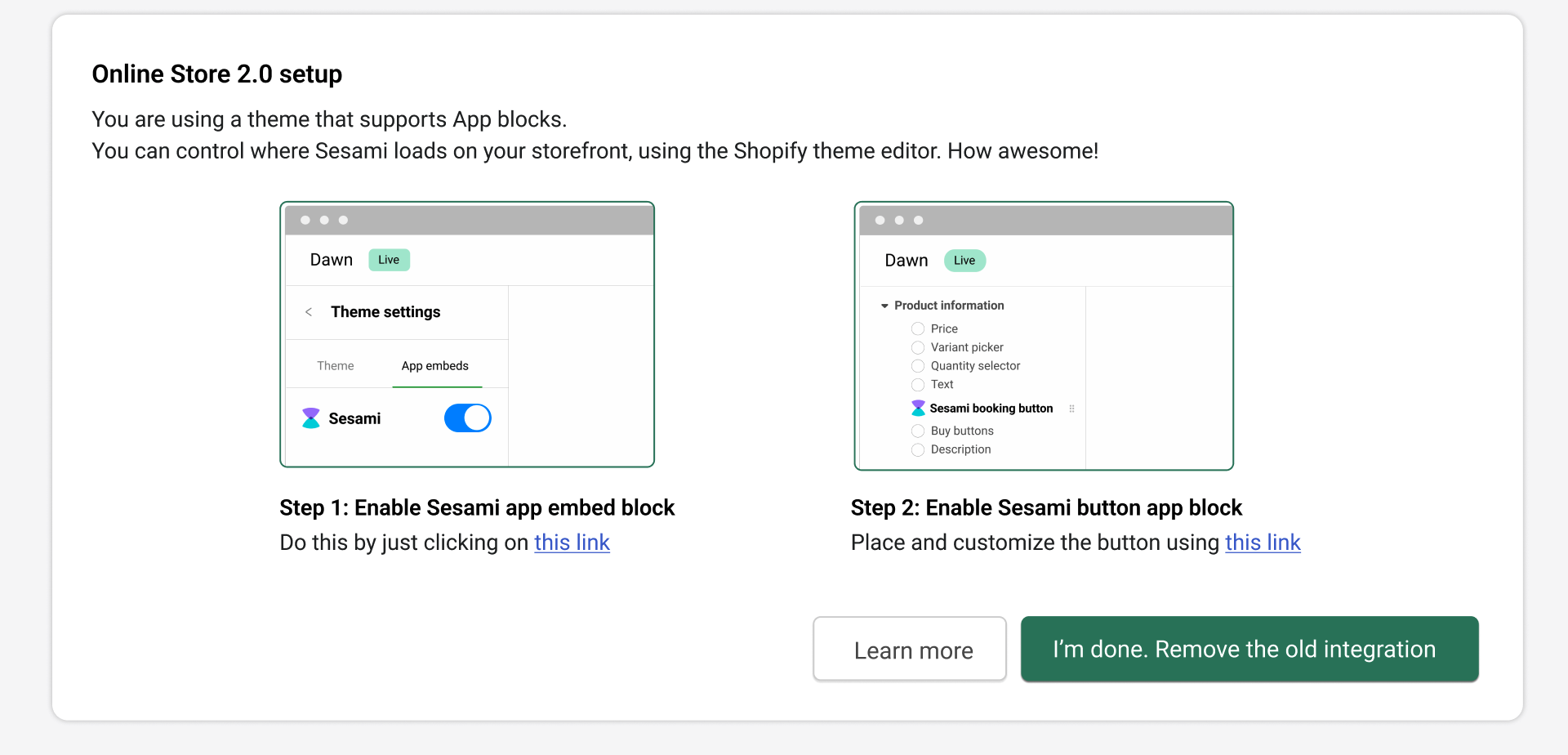 FAQ
What app blocks and app embed blocks are there for Sesami?
Sesami App Embed Block: To manage our cart verification script.
Read more about what it does, here.
Sesami Booking Button App Block: To place and customize our booking button to your storefront. You can style and customize the button as well as settings like Auto Add To Cart and Skip Checkout after a customer selects a time from our calendar.

What templates Sesami Booking Button app block can be added to?
Product Template/s.


How to add, remove, and reorder our Sesami Booking Button app block?
By selecting the + Add Block link in the product information tab on any product template. You can also drag the reordering icon on the right side to reposition the block where you want it to load. We suggest it be placed before the Buy Buttons block.
How to activate and deactivate the Sesami app embed block?
By turning it on or off under the Theme Settings.
Do you want to learn more about app blocks?
Do you have a question? Please reach out to us by submitting a ticket using this link.