Sign Up for Group Appointments Beta
Do you offer services such as in person / online classes, tours, or events? We have great news for you! Sesami has just recently launched our latest new feature in the app - Group Appointments!
You can sign up to enable this feature on your Sesami account here: GROUP APPOINTMENTS SIGN UP. Please note, Group Appointments is only available to Medium or Pro subscription plans of Sesami.
Once we have received your request and processed it, we will send you a notification email that it has been activated on your account.
Please keep in mind that Group Appointments are still in the beta phase so if you see anything that seems out of the norm, please let us know by contacting us.
Enabling Group Appointments
After you have signed up for the Group Appointments beta (and have received the confirmation email), you can enable this feature by navigating to:
Sesami > Services > [click on a service] > Group Appointments


Settings / Enabling View
Clicking on the checkbox will enable group booking for this service.
The maximum number of bookings (per time slot, per team member) is set based on your Sesami subscription plan:
| | | |
| --- | --- | --- |
| Plan | | Max # of Bookings |
| --- | | --- |
| Medium | | 10 |
| Pro | | 20 |
Admin Details View
You can view the appointment details (and the number of participants) by navigating to:
Sesami > Calendar > [click on a book time slot]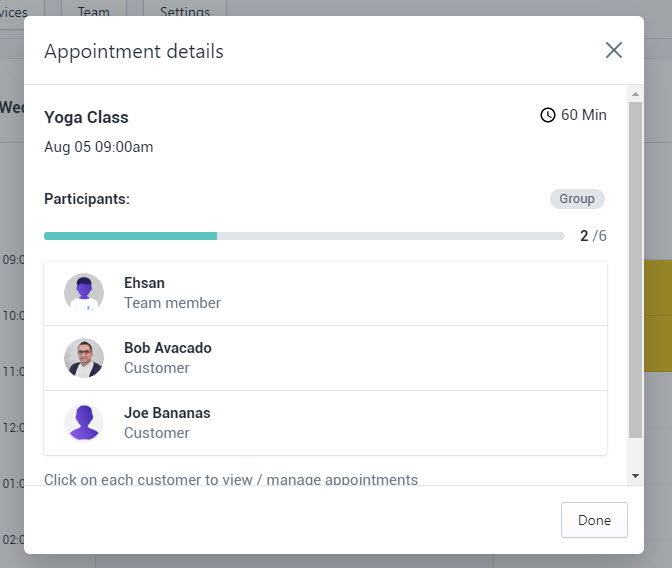 Calendar admin details view
FAQs
How does Group Appointments appear for clients?
Your booking calendar will appear normally for your clients as it does now (if there are available slots).
What happens when the the maximum number of bookings has been reached?
Really simple - that time slot is no longer available to be booked on the calendar. :)
How do I book multiple slots for a client manually?
At this moment, there is no way to book multiple slots manually for your clients using Group Appointments. We recommend booking one at a time.
I currently have a custom medium/pro plan installation of Sesami for multiple bookings per time slot, how do use the new Group Appointments feature?
In most cases, we recommend using the current workflow in your account during the beta time period of Group Appointments.
If you want to use the new Group Appointments feature, we recommend creating a new service and picking a cut off date (for example the 1st of the month), for transitioning your client bookings from the old service to the new one. Please contact us if you require assistance.